Southmead Hospital doctor blames bed-blocking on council cuts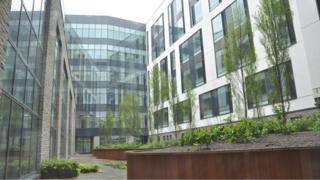 The most senior doctor at Bristol's Southmead Hospital says cuts in council funding have led to a growing problem of bed-blocking.
A Care Quality Commission (CQC) report this week said the hospital put the safety of patients and the wellbeing of staff at risk.
Dr Chris Burton said about 100 patients fit to be discharged each day had nowhere to go.
But Bristol City Council said it had "invested increasingly" in home care.
The CQC said some patients at the hospital, which opened in May, were being put at risk because doctors were not checking on them, and the cause was patient flow.
'Difficult to achieve'
Dr Burton, the hospital's medical director, said: "My view is there's pressure on the whole social care system that is a feature of the financial position that the country and the public sector find themselves in.
"Finding places quickly enough, and packages of care for people outside the hospital, is problematic.
"It takes us longer than we would like, that adds some days to patients stay in hospital and that then causes a problem with the outflow from the emergency department.
"The need for more resource in the community is clear to me and that's difficult to achieve within the financial context that we work in."
The Department for Health said the government had given an extra £37m to fund social care packages to move patients more speedily out of hospitals and, of that, Bristol gets £425,000.
The city council, the main local authority responsible for caring for patients from Southmead, defended its record.
Mike Hennessey, the council's service director for adult care, said: "We've invested increasingly in people going into their own homes, an additional 3,500 hours a week of home care on top of the 20,000 hours we were providing.
"We are working with our health colleagues in Bristol and with Southmead to make sure that we attack the flow problem."