English Heritage to investigate listed building parking signs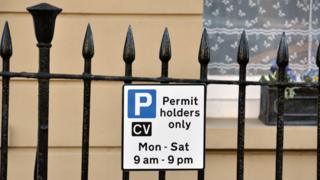 English Heritage is investigating claims signs have been fixed to the railings of Grade II* properties without listed building consent.
The signs were put up as part of Bristol's residential parking scheme, which starts in Clifton in March.
Campaigners argue much of the area is listed and say the signage is spoiling its appearance.
Bristol City Council said it used railings as much as possible to minimise posts in the pavement.
English Heritage confirmed it had been contacted by a number of residents expressing concern about the implementation of the zone in Clifton Village.
Bristol City Council said it "met regularly" with English Heritage to talk about listed building work and legislation.
"When we were putting RPZ signs up in Kingsdown it was advised that as long as we were not making significant or permanent changes to a building, which would alter its character, it was acceptable to put signs up," a spokeswoman said.
"It is the same situation for Clifton Village."
Businessman Mark Moran, who is campaigning against the zone, claimed the council was "out of control".
"How can putting a sign on railings not materially alter a listed building in the same way as a hole in a beautiful paved pavement?" he said.
"The council's just running around doing what it wants to."
One to 31 Caledonia Place, and attached basement area railings, are Grade II* listed by English Heritage for their "special architectural or historic interest".