Bristol's Colston Hall refurbishment appeal given £5m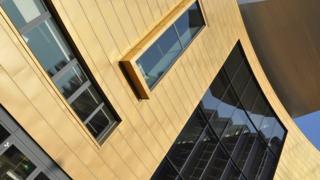 A £45m bid to refurbish a concert venue in Bristol has been backed by central government, but with half the funds hoped for.
Colston Hall bosses visited Westminster last week to request £10m, but said the £5m received is "great recognition" of the fundraising campaign.
The grant has been added to the £10m already pledged by the city council.
The venue, which is approaching it's 150th year, is Bristol's largest and is in need of internal modernisation.
'Left behind'
Louise Mitchell, chief executive of the Bristol Music Trust, said: "Our ambition is nothing short of a total transformation to make this Hall a 21st century international hub for entertainment, education and enterprise and this announcement of £5m is a fantastic step.
"Across the country, we are the last of the main concert halls to have undergone a major redevelopment and we are determined to ensure that our region doesn't get left behind."
When the city council announced its financial backing for the plan, assistant mayor Simon Cook questioned the government spending £78m on a new theatre for Manchester, saying Bristol was in greater need of that type of support.
Danny Alexander, chief secretary to the treasury, said: "Bristol is already one of the south west's most vibrant cultural hubs, so it's great news that it is finally on track to have the international standard concert venue that the region needs.
"London should not have the monopoly on arts and culture, which is why we're providing £5m to support the refurbishment of Colston Hall right here in the south west."
The transformation plans include remodelling the main auditorium, developing the second hall, opening up the cellars and restoring the Victorian frontage.
It is hoped work will begin in 2017- the Hall's 150th year - and be ready for opening in 2019.