Mum's plea to save Bristol Autism Project holiday club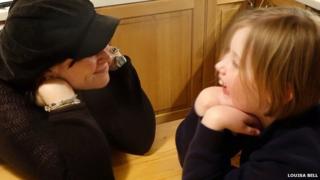 A mother has made a plea to a council not to let a holiday club for autistic children be lost if it is outsourced to a private firm.
The Bristol Autism Project (BAP) offers free, supported holiday activities for children aged 5-18 years.
Louisa Bell started a petition, which gathered more than 1,200 signatures in a week, urging Bristol City Council to protect the service.
The council said it would not comment until after the tendering process.
'A lifeline'
BAP puts on activities for more than 180 families, ranging from swimming and bowling to outdoor activities.
Mrs Bell's nine-year-old autistic daughter Ciara has used the holiday club for four years.
Before joining BAP Mrs Bell said her family felt "like prisoners in our own home".
When she was told that it will not exist after June, she said she "felt sick" adding "I don't know what we'll do without it".
Mrs Bell said BAP has enabled the whole family to go out with the safety net of "additional adult support when things get fraught".
Henry Barnes, from the National Autistic Society, said he was "deeply concerned" by the council's decision to "pull funding from this service and put it towards an external provider".
He said the documentation the society has seen "makes no mention of the need for an autism-specific service" to replace BAP.
A letter from the council to service users states it is "very committed to continuing to provide activities for children with autism".
But, it said it could not confirm what the new service will be like "until we look at all the applications and decide on the new providers".