Lightning-hit home near Bristol badly damaged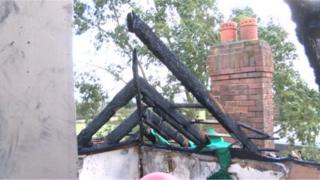 A family was "lucky to get out alive" after their house was badly damaged by a lightning strike.
The home, to the north of the city, was hit during a brief thunderstorm at about 21:00 GMT on Monday.
The roof of the house caught fire and there was "extensive damage", Avon Fire and Rescue said.
Homeowner Dawn, who did not wish to be identified, said her two children were "screaming and frightened" after the lightning strike.
"We didn't know the house was on fire, we were still in here. It was only our neighbours that told us," she said.
"I knew it was in a bad state last night but coming back this morning it has just hit me worse.
"But all I can say is I'm glad my family got out."
The fire service said the roof had suffered "extensive fire damage" and there had also been water damage from fighting the blaze.