Emma Sheppard jailed for using homemade stingers on police cars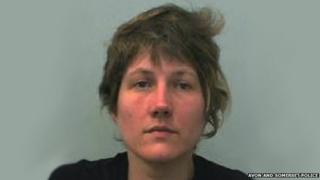 A woman who attacked police vehicles in Bristol with homemade stinger devices has been jailed.
Three vehicles became "unusable" after the devices made with blocks of wood and sharp nails were placed near a police station at Emersons Green.
Emma Sheppard admitted conspiring to commit criminal damage, being reckless as to whether life was endangered.
The 33-year-old carer, of Easton, was handed a two-year jail sentence at Bristol Crown Court.
Sheppard put takeaway containers and leaves over the traps so police would drive over them while responding to calls on New Year's Eve, the court heard.
She later said her actions were in protest at the death of a black teenager in America, police brutality in Greece and cuts to legal aid.
During sentencing, Judge Neil Ford QC said he had received numerous testimonies describing Sheppard as compassionate and passionate about justice and equality.
"Your dislike of the police generally, in my judgment, is peculiar for someone of your intelligence and sophistication," he said.
"It is strange for someone with your compassion to take steps to endanger police officers who act to protect members of the public."
'Their own medicine'
Richard Nile, representing Sheppard, said his client had sought to damage one or more police cars but had not intended for further harm to be caused.
"She had come to the realisation that police used stingers on quite a wide scale," he said.
"What she was seeking to do was to give the police a taste of their own medicine."
Det Insp Andy Beavan, from Avon and Somerset Police, said: "This is one of the busiest nights of the year in terms of us responding to emergency calls and Sheppard rendered all three vehicles unusable.
"Her actions posed a serious risk to our police officers as well as other road users."
Police said the devices had caused about £1,500 of damage.