Arnos Vale gravestones returned to Soldiers' Corner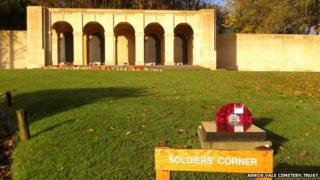 Work to return 45 gravestones stored in a Bristol cemetery crypt to their original position, where 239 soldiers are buried, will start later.
Soldiers from the 266 (Gloucestershire Volunteer Artillery) Battery, 104th Regiment Royal Artillery, will move the World War One stones at Arnos Vale.
The gravestones were among a number discovered in the landscape several years ago, having been removed in the late 20th Century for reasons unknown.
They went in the crypt for safekeeping.
Cemetery staff have now carried out a full condition check of the stones and identified 45 to be reinstated at Soldiers' Corner.
Another 19 gravestones are in too poor a condition to return to their graves and will remain stored at Arnos Vale.
The rest of the stones remain missing.
The flat stone ledgers were originally put on the graves by the Bristol branch of the British Red Cross Society, to replace the simple wooden cross markers that had been used during wartime.
Historian Charles Booth, who has been involved in researching the gravestones and soldiers in Arnos Vale, said: "I'm delighted that the Cemetery Trust has decided to restore these grave markers to their original settings.
"Although it hasn't been possible to put all of them in place, because of loss or damage, the effect will be to show Soldiers' Corner as a place of military burial, rather than just a lawn and a list of names on a war memorial.
"I hope it will also be of consolation to relatives of the dead servicemen whose grave markers we have managed to replace."
A gravestone marking the grave of five men, including two South Africans, Gunner Jones and Private Madhlala, and currently on display in exhibition Moved by Conflict, at the M Shed, will be the final stone returned to Soldiers' Corner in March.
Arnos Vale is the resting place for a total of 356 World War One servicemen, with memorials to a number of others on site.
A public tour of Great War Graves in Arnos Vale on 21 March will give more detail on the latest discoveries.
The crypt where the soldiers' stones had been stored will be transformed into a exhibition telling the story of wartime Arnos Vale. This will open on 25 April.