Missing Rebecca Watts: Family home is searched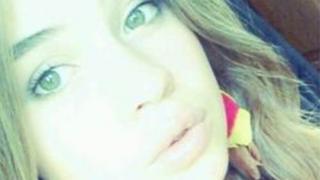 The family home of a missing Bristol teenager has been searched by forensics officers, police have said.
Rebecca Watts, 16, was reported missing after not returning to her home in the St George area last Thursday.
Father Darren Galsworthy left the house with stepmother Anjie. Police said the search was "standard practice".
Avon and Somerset Police have also been searching Troopers Hill, a nature reserve near the family's home on the Crown Hill road.
The force helicopter searched the reserve and surrounding area on Tuesday night and was used again on Wednesday.
But police said at a press conference they had made no significant finds there.
Officers revealed new missing posters had been produced and some were handed out during a search by members of the public later on Wednesday.
Officers on foot also searched a park and open ground, close to Rebecca's home on Tuesday.
She is described as white, 5ft 4ins (1.6m) tall, with long red hair. Police said recent photos of her did not reflect the change in her hair colour.
It is thought she was wearing a blue puffa-style jacket on the day she went missing.
On Monday, Mr Galsworthy called on his daughter to return.
He said Rebecca was a "typical teenage girl who took lots of selfies".
Her stepmother Anjie added she was "not in trouble... she's just wanted here".
Rebecca went missing with her mobile phone and laptop, the force said.
Det Insp Richard Ocone, who is leading the investigation, said: "We're continuing to search the local area, concentrating on open areas and parkland.
"This is a routine part of a missing persons search that we always undertake to look for anything that Becky might have dropped.
"We are continuing with our house to house inquiries and I would urge anyone in the local area who has yet to speak to officers to call us immediately if they think they can help us."