Bristol M32 speed limit 'not being enforced' by police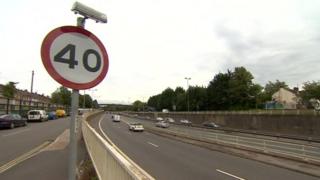 A temporary 40mph limit on a "dangerous" stretch of motorway is not being enforced by police, it has been revealed.
The limit was introduced on the M32 in Bristol after a crash barrier was found to be badly corroded.
But Avon and Somerset Police have prosecuted just two drivers for speeding since the new limit in August.
Bristol City councillor Mhairi Threlfall said drivers were not "adhering" to the new limit.
"It's really concerning given the state of the barriers, and I don't think the speed limit is being enforced," she said.
"It would only take one car going at high speed to cause a serious incident."
'Incredibly busy'
A spokesperson for road safety charity, Brake said: "Whether speed limits are permanent, temporary or variable, it's important that drivers stay well within them.
"Councillor Threlfall is right to point out the dangers of speeding. We would expect police patrols to enforce this limit."
Avon and Somerset Police said: "Our motorway network is routinely patrolled by specialist road policing officers who enforce speed and other road traffic legislation to help make sure our roads are as safe as they can be."
The Highways Agency said the delay in fixing the barrier was because it was an "incredibly busy section of motorway".
It plans to carry out a speed survey in the "next few months" to find out if a temporary barrier would work to replace the corroded one.