Bristol tandem crash death families meet PM to call for law change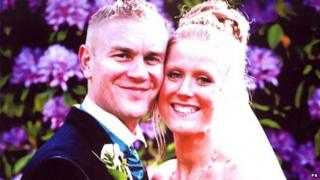 The families of a Bristol couple killed in a hit and run crash by a disqualified driver have met with Prime Minister David Cameron.
Ross and Clare Simons died when their tandem was hit by a car driven by a man with convictions for dangerous driving.
Nicholas Lovell was jailed for the maximum of 10 years and six months.
The families are campaigning for the law to be changed to allow longer sentences for disqualified drivers who commit an offence by dangerous driving.
Mr and Mrs Simons died in 2013 when they were hit by a car driven by Lovell, who was first disqualified from driving in 1999.
He had been convicted on 11 separate occasions of driving while disqualified.
Kelly Woodruff, Mr Simons' sister, said Mr Cameron had been "sympathetic" to their cause when he met them at 10 Downing Street.
"We just hope we can move forward from here and get the law changed so other families don't suffer the way we have," she said.
"We won't give up until we get what we want."
Ms Woodruff said Mr Cameron told them he would talk to Justice Secretary Chris Grayling about the issue. The families are due to meet Mr Grayling next month.