Bristol's life-size 'walk in' whale plan revised to just a head and tail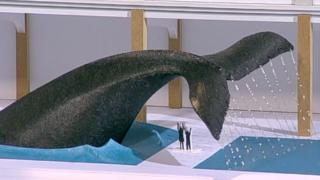 Plans for a 30m (98ft) 'walk in' blue whale in Bristol city centre have been revised to just a head and tail.
The life-size whale made of recycled plastics, was due to be installed in April to mark the city's year as European Green Capital.
But Bristol Green Capital said it was decided a full-size whale "was not going to be sustainable or practical".
Now a 5.5m (18ft) tail and 10m (32ft) head will be created out of willow, surrounded by a sea of plastic bottles.
The "unique" walk-in blue whale sculpture, containing "immersive" audio-visual exhibits, was being led by Artists Project Earth.
Funded by the Arts Council England, Bristol Green Capital said the project had "evolved" into two full-size whale sculptures made from Somerset willow.
Sue Lipscombe from Cod Steaks, the company commissioned to make the sculpture, said it includes the "diving" tail of a blue whale and an "emerging" head of a humpback whale.
"We're creating an ocean of plastics, and the bottles are being donated to us from the Bristol 10k marathon," she said.
"We're expecting thousands of them and we're going to be asking people from all over the world to send messages in - it's a kind of petition, an awareness of the danger that faces wildlife in the oceans."
The willow whales are due to installed outside the At-Bristol Planetarium in mid-July.