Bristol Residence arts group lose fight to stay in Milk Bar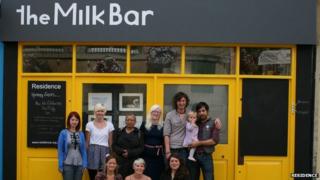 A Bristol art group has lost its fight to stay in its building after the council put it up for rent.
Residence took over the Milk Bar in St Nicholas Street in 2009 under a former council scheme to bring empty buildings back into use.
The "disappointed" group said it had been outbid by an antiques dealer who wants to turn the building into a vintage shop.
The council said it would meet the artists soon to "discuss the handover".
Phil Gibby, from Arts Council England, said on Twitter: "Very sorry to hear @residence1 have lost their #MilkBar home. One of #Bristol's most significant creative hubs."
James Stenhouse, from Residence, said: "Whilst we are really disappointed and wish the council had come to a different decision, we are looking forward to working with them to find a new solution.
"Our plan now is to use the support we have gathered to help us secure a new building somewhere, perhaps even finding a way to buy a building that we can hold in trust so that Bristol has a permanent space for independent artists.
"This can only be done with the help of significant partners in Bristol though so we have a lot of work to do."
A Bristol City Council spokeswoman said there had been a "high level of interest" for the property and the authority had received 17 bids.
She said: "Discussions will now take place with the existing property occupiers to arrange a handover to the new occupier.
"At the same time we will see if there are any council premises which would suit Residence."
The group has been told it has one month to vacate the building.
Residence describes itself as a collective of artists that share space and resources to make live performance art and script-based work.