East Clifton Residents' Parking Scheme to start 1 June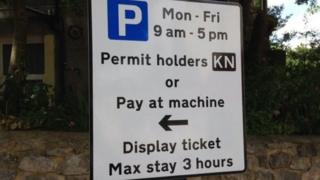 A planned residents' parking zone (RPZ) for part of Bristol has been approved and is scheduled to begin on 1 June, the council said.
Mayor George Ferguson wants to implement a blanket rollout of parking zones across 12 areas to halt commuter parking in city streets.
East Clifton residents will pay up to £72 to park outside their home for one car and £96 for a second permit.
The RPZ will operate Monday to Friday between 09:00 and 17:00.
The cost of the first permit will depend on the emission band of the vehicle.
Under the scheme Whiteladies Road will have pay and display only parking from Monday to Saturday.
Permit-only parking is proposed in the more residential streets, with some disabled parking bays close to shops and community facilities.
A council spokesperson said in addition to the new RPZ in east Clifton, a separate scheme offering limited waiting on Durdham Downs is being progressed to ensure better access to recreational users of the Downs, subject to consultation.
The scheme will be monitored and reviewed after six months.
East Clifton is the eighth RPZ area to be approved in the current programme of 12 areas.