Cribbs Causeway mall expansion plans 'harmful' to Bristol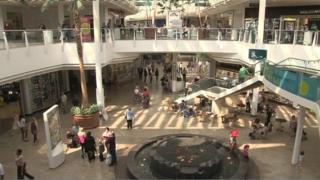 Plans to expand a shopping mall on the outskirts of Bristol would be "harmful" to the city centre, according to a city council report.
The Mall's owners at Cribbs Causeway, in South Gloucestershire, want to extend it by 50% to include more shops, a hotel and a public square.
A planning application for the expansion has been submitted to South Gloucestershire Council.
Bristol City Council is recommending the plans are not supported.
In the report, to be discussed by Bristol's cabinet later, officers advised "the proposed extension to the out-of-centre mall would be harmful to Bristol because of the impact on the city centre and the transport implications".
The Mayor of Bristol, George Ferguson, described the plans as a "threat" on Twitter.
A Bristol City Council spokesman said: "Bristol's priority is maintaining thriving centres within the city centre, elsewhere in the city and the sub region.
"We have expressed concern about the impact of the proposed extension of the out-of-centre mall, Cribbs Causeway, on existing and planned investment in the city centre."
Bristol's report also highlights concern from other councils including North Somerset, Taunton Deane, Bath and North East Somerset, the Forest of Dean and Newport who have all submitted objections to South Gloucestershire.
South Gloucestershire Council said: "We look forward to receiving the views of Bristol City Council, following their consideration by the cabinet.
"It is hoped that any views expressed will acknowledge the potentially significant benefits of the development for the communities of Bristol and South Gloucestershire, as well as the impacts."
M&G Real Estate, which manages The Mall, said it would comment after Bristol City Council's cabinet meeting.