Bristol Downs classical stone bridge plans submitted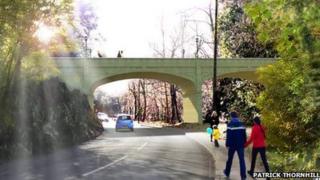 Plans to build a classical stone bridge across the Downs in Bristol have been submitted to the council.
Engineer Dr Adrienn Tomor, from the University of the West of England (UWE), said she hoped to get a decision within the next two months.
She said it offered a safe crossing for walkers and cyclists at a "dangerous" junction over Bridge Valley Road.
Plans were put together on a voluntary basis in consultation with stakeholders and community groups.
She said if permission were granted they would need to raise about £2m.
The council's Downs Committee has agreed to the idea in principle, subject to planning permission.