Prime Minister responds to tandem deaths petition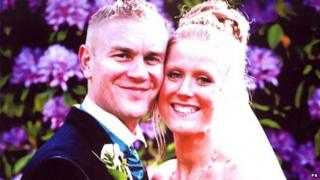 The prime minister has written to the justice secretary asking him to consider law changes after meeting the families of a Bristol couple killed by a disqualified driver.
Ross and Clare Simons died after their tandem was hit by Nicholas Lovell.
Their families handed a petition to David Cameron last month calling for tougher sentences for disqualified drivers who offend again.
Mr Cameron said in his letter the families had "spoken powerfully".
Lovell, who had four previous convictions for dangerous driving, was jailed for 10 years and six months in May 2013 after he admitted two counts of causing death by dangerous driving, at Bristol Crown Court.
He was being pursued by police when he hit the couple in Hanham in January that year.
In his letter to Justice Secretary Chris Grayling, Mr Cameron said: "Whilst noting that we are reviewing this issue so could not make specific commitments now, I agreed that the following issues should be considered in depth as part of the review we are carrying out on sentencing for driving related offences:
The maximum sentence length available for causing death by dangerous driving (currently a 14 year sentence);
Whether offenders convicted of causing death by dangerous driving should be denied automatic early release from prison at the half-way point in the sentence;
The question of whether sentences should be awarded concurrently or consecutively in cases where a number of people are killed as a result of dangerous driving, whilst recognising that the courts normally determine this issue;
The discounts provided for late guilty pleas in these types of cases;
The length of the driving ban given to offenders, and the potential for ensuring that no period of their sentence counts towards the driving ban."
More than 15,000 people signed the Justice for Ross and Clare Simons petition.