'Most people against' residents' parking in Bristol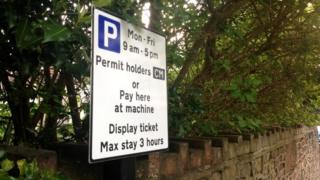 More than 80% of people are opposed to the idea of residents' parking zones in Bristol, according to a survey.
A study set up by businessman Mark Moran asked for opinions on a city council scheme to deter parking by commuters.
Some people questioned said they did not think mayor George Ferguson or Bristol City Council were listening to concerns.
Nearly 78% backed the cancellation of planned residents' parking zones (RPZ).
Divided opinion
The survey, which attracted more than 5,500 responses, also revealed that more than 86% of people believed an "efficient cheap and reliable" public transport system should be in place before the introduction of RPZ.
The residents' parking scheme was introduced by Mr Ferguson and has divided public opinion.
In April, Clifton traders drove a tank through the area protesting at the "lack of consultation" and handed in a 5,000-name petition.
Then in September, a number of major employers including the university and a hospital trust called for a rethink of the city-wide RPZ.
And earlier in the year residents in three roads in Redland asked the council to extend the scheme to cover their properties.
Mr Ferguson said: "I'm not the slightest bit surprised by the outcome of a petition which even the organiser admitted is 'biased'.
"I acknowledge that change is challenging but recognise that the schemes require some people to change their travelling habits and will never be the perfect solution for everyone."
Those in favour of RPZ say the measures make it easier to park outside their homes, make the streets safer and reduce the number of commuters "circling" trying to find a space.
The result comes ahead of a Bristol City Council debate on the RPZ scheme triggered by a separate online petition.