Becky Watts: Mother's tribute to 'beautiful' daughter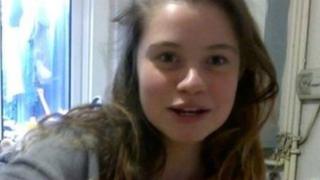 Teenager Becky Watts had a "beaming smile" and should be remembered for her "beauty inside and out", her mother said in a tribute.
The 16-year-old went missing in Bristol on 19 February. Body parts were found at a house in Barton Hill in the east of the city on 2 March.
Tanya Watts said she was determined to focus on happy memories of Becky as a "beautiful baby and gorgeous girl".
Becky's stepbrother, Nathan Matthews, 28, has been charged with her murder.
Mrs Watts said the sense of loss and pain was "overwhelming".
"I have been going through old photographs and she has a beaming smile in all of them.
"This is how she should be remembered - for her beauty inside and out."
Mrs Watts said she felt the presence of her "beautiful angel" all around her, and knew that she was now "in heaven with her nanny and grampy and all the other people that loved her".
Mr Matthews' girlfriend, Shauna Hoare, 21, has been charged with perverting the course of justice.
Karl and Donovan Demetrius, both 29, Jaydene Parsons, 23, and James Ireland, 23, have been charged with assisting an offender.