Removing Bristol tree-top protesters 'could take days'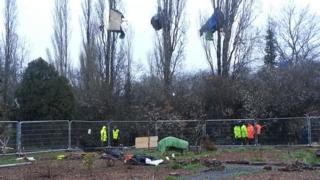 It could take several days to remove a 20-strong group of tree-top protesters, Bristol City Council has said.
Campaigners for the Rising Up group, unhappy about a proposed new Metrobus route, have been perched in trees at Stapleton Allotments for over a month.
Some 80 "security specialists" brought in by the council started to remove campaigners on Thursday but said half of the protesters, about 20, remained.
The group's Belinda Faulkes said it would continue to fight its cause.
"We're still pursuing [the] political, planning and legal sides to this campaign as well," she added.
"And there are cracks showing all over this and we are not going to let them do this without making a huge fuss.
"The way that they're dealing with [it] is just a mirror of how they've gone and bulldozed through this whole scheme and particularly this route in this area.
"They've come in so heavy-handed when it just doesn't have to be this way. It's appalling, absolutely appalling."
BBC Radio Bristol's Nigel Dando at the scene:
"For weeks now campaigners against the proposed Metrobus scheme have been camping out here on the Stapleton Allotments.
"They've been occupying trees on part of the suggested route.
"They emphasise they have no quarrel with the idea of a Metrobus scheme, which is designed to improve and speed-up transport links between the city centre and its boundaries.
"What they do say is that they are concerned at the loss of some of Bristol's most fertile soil here because that will happen with the loss of a number of allotment plots to make way for part of the Metrobus route through this part of Bristol."
Protesters chained themselves to diggers, locked themselves to trees using metal pipes covered in concrete and even "dug themselves in" to avoid eviction.
Peter Mann from Bristol City Council said Thursday's operation was "largely straightforward" and there were "no major incidents".
"Clearly there is a minority who are more entrenched, including those occupying a number of the trees on site," he added.
"Action to remove the individuals in the trees and several other points will continue during today and into the weekend if necessary.
"We do of course regret the need for the forced removal of the protesters, but it is essential action to ensure that we can move ahead with the Metrobus project."
Mr Mann said the scheme would provide a "cleaner, greener and more efficient" public transport solution for Bristol and the West of England.
The city council, which owns the land, had initially hoped the process - granted after a High Court order gave it permission to clear the whole site - would be over "in a couple of hours".