Bristol study reveals impact of elected mayor on city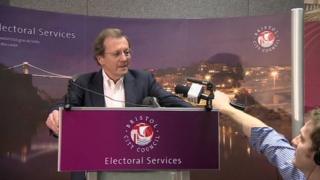 The introduction of an elected mayor in Bristol has "undoubtedly changed the way people think about governance", a study has suggested.
Bristol University and the University of the West of England said it was the first "before and after" study since George Ferguson was elected in 2012.
It showed just 33% of those asked had perceived an improvement in "public confidence in decision-making".
About 650 Bristolians were surveyed before and after the 2012 election.
The results highlighted a "difference in views" based on the relative affluence of respondents.
The study found 39% of people in the "least deprived areas" agreed "public confidence had improved in decision-making", compared to only 25% in the "most disadvantaged areas".
Co-author Dr David Sweeting, from Bristol University, said: "The challenge for policy makers, locally and nationally, will be to make the mayoral system function more effectively in years to come by building on the perceived strengths and taking action to address perceived flaws."
'Visible leadership'
The study also took responses from "over 100 third sector organisations, the business community, local councillors, council officers and public servants in Bristol".
This highlighted differences of views when people were asked whether they "trusted the council to make good decisions".
Councillors "perceived a decline in trust", with only 16% agreeing with the statement in 2014, compared to 44% in 2012.
Researchers said "citizens tended to note little difference" with 19% in 2012 and 23% in 2014.
But the study also recorded "a dramatic increase in the visibility of city leadership".
Co-author Professor Robin Hambleton said: "The idea of introducing directly elected mayors to lead cities is an international trend that is clearly on the rise."