Controversial Clifton Village RPZ scheme becomes active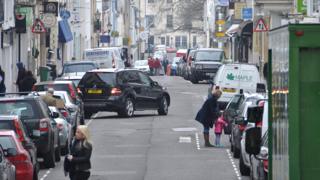 The latest area in Bristol's controversial residents' parking zone has gone live.
Mayor George Ferguson wants a staged rollout of parking zones across much of the city to stop commuter parking.
Permits for Clifton Village cost up to £72 for the first vehicle, depending on the vehicle's emission levels.
Bristol City Council said during a two week "period of adjustment" motorists could receive a warning rather than a fixed penalty notice.
The introduction follows a campaign of opposition to the scheme, led by many businesses and residents in the area.
But those in favour argue it will allow people to park outside, or close, to their home.
---
At-the-scene, Ian Parker, BBC News Online
I saw eight pay-and-display machines around the village which were not in service - and suspect there were many more.
Those trying to pay for their parking were greeted by a message from the council saying the machines were "out of order/not in use.
The streets seemed as packed with cars as normal, with shoppers swooping into spaces as soon they were free.
In the residential side streets most cars were displaying their permit, a visitor's pass or a "Dear traffic warden" note.
But, unusually, none of the city's many civil enforcement officers were anywhere to be seen.
---
Businessman Mark Moran has collected signatures from more than 4,500 opponents across the city.
"It's been rammed down the throats of the people of Bristol and it's anti democratic," he said.
"The response of people against it is running at 85% across every survey and every petition."
John Toy, from Bristol City Council said the authority is targeting commuters "because it's commuters that peak our congestion and poor air quality".
He said there is often "a lot of concern" before a scheme is introduced "but what we find... [is that] people love it, people adapt".
"People don't understand there is still 30 minutes' free parking in the pay-and-display bays as long as you get a free ticket.
"We're putting out some information to publicise this later this month."
And in June the restrictions extend to include the East Clifton area; plans are already under way to introduce limited waiting on Clifton Downs, "subject to consultation".