Clifton RPZ 'sabotage' claims questioned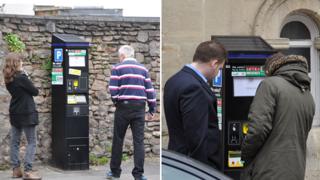 Claims that ticket machines and signs for a new residents' parking zone were deliberately and maliciously" sabotaged have been disputed.
Bristol City Council said fake "out of order" signs were posted on machines in Clifton Village, in "a concerted effort to mislead people".
But campaigners claim most machines were still switched off on Monday.
Mayor George Ferguson wants to stop commuter parking with resident parking zones across much of the city.
Mark Moran, who is against the scheme, said he saw machines which had not been switched on, with an 'out of service' message, displayed on the screen.
He added: "I just think this is the council putting up a smokescreen and a damage control exercise over something that wasn't operational yesterday [Monday], in order to take the heat off themselves.
"They have caused massive confusion by not removing old signs and not putting the machines on - they are out there today putting machines on, it's total smoke and mirrors to try and deflect from their own incompetence."
On Tuesday morning, a BBC journalist visited 14 of the ticket machines.
The majority were displaying a council notice stating "this machine is currently out of order/not in use" in the area where the tariffs are normally displayed.
But the machines appeared to be in working order, with one printing a valid ticket.
Three machines had "fake" out of order stickers and a further three appeared to have a white substance sprayed into the coin slot.
Bristol City Council earlier said some signs had been "deliberately and maliciously removed" and pay-and-display machines "plastered" with "what look like official notices".