Wellsway School teachers call off further strike action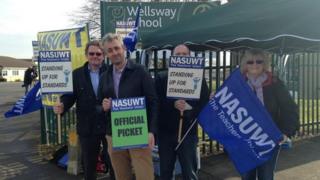 Teachers who took industrial action at a school over what they said were "unacceptable practices", have suspended further "planned strikes".
Staff at Wellsway School, in Keynsham, Bristol, who are members of teacher's union NASUWT, claimed they were being undermined by excessive monitoring.
NASUWT said the school had been "prompt in producing an action plan".
Wellsway School said it was "pleased" strikes were suspended and it would work with staff to "review workload".
'Work life balance'
In a joint statement issued by head teacher Andrea Arlidge, chair of governors Susan Robbins and head of school Simon White, the school said it would be "looking to implement a number of measures to address their [staff] genuine concerns".
They said in the statement: "Education is facing a number of pressures that are impacting on workload and we must make sure that we can meet these pressures whilst ensuring our staff enjoy a reasonable work life balance."
Wendy Exton, from NASUWT, said she hoped "various workload concerns" would be addressed by the school's senior leadership team.
"However, as a union, we know we have been here before with Wellsway School, whereby promises have been made, documented and then once union presence has left, these have then been forgotten.
"It is for these reasons we have only suspended the action and should this document not be adhered to, we would then return to a series of strike action," she said.