Windfall will help Bristol's Concorde museum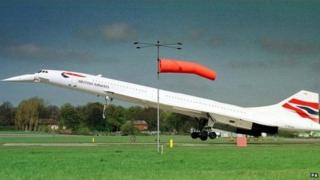 A £2m Budget windfall to an aviation charity in Bristol will go towards building a "fitting home" for Concorde.
It will be part of the £16m Bristol Aerospace Centre, based on the former Filton airfield, which will also see an aerospace museum and learning centre.
The trust said this would "recognise and celebrate" the city's contribution to the UK's military effort.
The money, announced in Wednesday's Budget, is one of a number of projects funded from banking industry fines.
501 Squadron home
Chancellor George Osborne said: "In every Budget we have used Libor fines paid by those who have demonstrated the worst in values, to support those who represent the very best of British values.
"I was pleased to announce £2m for the Bristol Aerospace Centre to help fund this important project to preserve our aviation history."
The airfield site includes two Grade II-listed hangars built by the Royal Flying Corp during World War One.
They were later home to 501 Squadron, which won seven honours in World War 2 and was one of the most heavily-engaged units in RAF Fighter Command.