Finzels Reach bridge plans approved despite concerns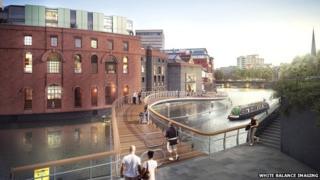 A new footbridge across Bristol's floating harbour has been approved despite concerns it would be "visually intrusive".
The structure, set to link Castle Park and Hawkins Lane, was approved by councillors, against the advice of planning officers.
They had recommended the "incongruous" and "over-dominant" bridge be refused.
Developers said it was "integral" to the planned Finzels Reach development. Work on the bridge will begin in May.
Officers said the "design, scale and form" of the new cycle and footbridge, which spans two conservation areas, would "detract from the character and appearance" of the area.
But architect Declan O' Donnell, from The Bush Consultancy, said the new development "depends on the provision of a bridge".
"One of the committee members suggested the planning officer was 'scraping the barrel' and the committee in general were not satisfied with the grounds for refusal," he said.
"It has been a long, challenging process with an extensive period of consultation - we are delighted this has been approved."