Bristol Cathedral Primary moves to Central Library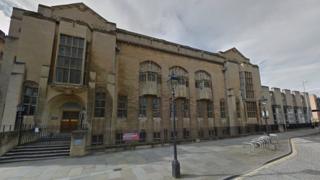 The £4m Cathedral Primary School will cater for 420 pupils and will move from its temporary base at Bristol Cathedral Choir School building.
Head teacher Sara Yarnold said pupils would "be able to learn in a wonderful setting."
Bristol City Council gave the school planning consent on Wednesday evening.
Fourteen classrooms will be built along with a multi-purpose hall and offices into two floors, which are not open to the public.
The main entrance will be via College Square, where the current loading bay is located.
During the planning process concerns about low light levels were also addressed, the school said.
'Magnificent building'
Glass-block floor panels will be uncovered and a 1950s concrete floor will be replaced to raise the ceiling height for the main hall to bring in more light.
Executive principal Neil Blundell said: "While it's true a couple of the classrooms for our older children may not be as bright as a purpose-built school, we believe the advantages of this magnificent building far outweigh any possible disadvantages."
He added that children would spend "relatively little time" in the classroom, as some specialist classes would be based at the neighbouring senior school, or outdoors for environmental or sports lessons.
Cathedral Primary is the most over-subscribed primary school in the city.