MetroBus final route work approved for Bristol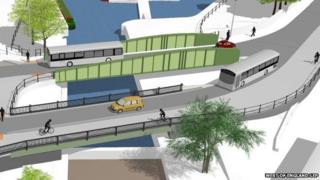 Building work on the third section of the MetroBus scheme around Bristol will begin next month, the government has confirmed.
It was announced in Wednesday's Budget that the North Fringe to Hengrove route had been granted full approval which allows construction to begin.
The £200m project will provide an express bus service on 31 miles (50km) of segregated bus-ways and bus lanes.
Permission for the third route was granted by council planners last year.
The joint project between Bristol City Council, North Somerset Council and South Gloucestershire Council is expected to have bus services in operation next year.
There has been some opposition to the scheme locally, including a tree-top protest camp set up at Stapleton Allotments which is being relocated as part of wider work on the the project.
Protesters spent 40 days on-site but were evicted last week after Bristol City Council was given the backing of the High Court to clear the land.