Woman and children found in lorry at Tesco depot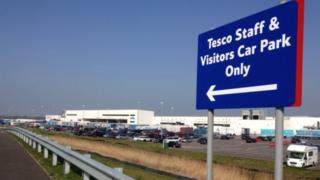 A woman and two children have been discovered in the back of a refrigerated lorry at a Tesco depot after spending two days inside.
Police were called to the distribution centre at Avonmouth, near Bristol, just after 08:00 GMT after the lorry driver reported hearing voices.
Avon and Somerset Police said the woman and children were checked by paramedics at a nearby police station.
He said they were believed to be "illegal immigrants".
A South Western Ambulance Service spokeswoman confirmed the woman and two children were unharmed.
"They (the patients) were all checked over and no one was taken to hospital," she added.
The ages of the children have not yet been revealed.