Bristol Pound council tax IT problems fixed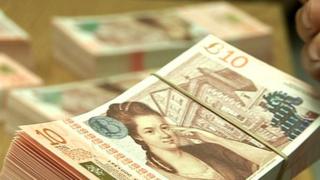 Technical problems that barred people in Bristol from paying council tax using the city's local currency have been resolved.
Bristol Pounds, which are on a par with sterling, were introduced to "benefit the local economy".
The council announced the payment method 18 months ago, but "technical issues integrating IT systems" caused the delay.
Council tax bills can be paid in the local currency from 1 April.
A council spokeswoman said: "We are glad that we are now in the position to enable local people to pay their council tax in the local Bristol Pounds and further extend this valuable scheme which boosts our local economy."
Ciaran Mundy, from Bristol Pound, said: "For the first time the people of Bristol have a clear and direct way of giving an imperative to the city council to support local businesses.
"In true Bristol fashion, we are the first UK city where people can pay council tax in a local currency."
The scheme was introduced in September 2012 and about 800 "locally-owned" businesses accept the currency.
How the currency works
•1:1 exchange with sterling
•£1, £5, £10, £20 notes
•Run by Bristol Credit Union
•Payments in cash or online
•Funds guaranteed by the Financial Services Authority
•About £460,000 worth of Bristol Pounds currently in circulation