Bristol Khat ban sees one caution issued in nine months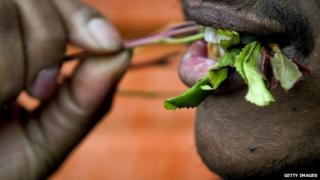 One caution for khat possession has been issued by police in Bristol since a nationwide ban on the substance was introduced last June.
A BBC investigation found seven people had been found carrying the herbal stimulant after it was outlawed.
It was widely used amongst the Somali community in the city, where almost 30 businesses used to sell it.
Possessing khat carries a maximum two-year jail sentence, Avon and Somerset police said.
'Back to life'
A force spokesman said possession also carries an unlimited fine, and anyone found producing or supplying it can be jailed for up to 14 years.
When the ban came into force police said they would try to educate rather than "criminalise" users.
Of the seven people found carrying khat, one was handed a caution for possession, according to a freedom of information request.
Ahmed Abdi, a trader from Easton, used to sell 10 boxes a day, but believes the ban has had a positive effect.
"We are not interested any more because there is a lot of people who misuse it, who chew it daily and become like alcoholics, or drug addicts," he said.
"But now they are back to life and it's really good to hear that it's been banned from the UK, and we are happy for that."
Khat is a leafy plant grown in Kenya and has the effects of a mild amphetamine.