Wallace and Gromit boss opposes 'gated' Carriageworks plan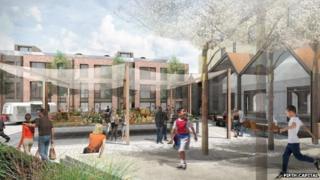 An open letter opposing a redevelopment of a derelict Bristol site has been signed by the boss of Wallace and Gromit creator Aardman Animations.
David Sproxton is part of a group claiming the Carriageworks plans could mean it becoming a "gated community".
The Grade II-listed building and neighbouring Westmoreland House have been vacant for more than 25 years.
Developers Fifth Capital said it did not need "a lecture" from someone who makes "fictional animations".
The firm added it was "confident" that the application would be given the green light.
Comer Homes currently owns the buildings but has agreed to sell to Fifth Capital should it get planning permission.
Bristol City Council planners have recommended the scheme be approved ahead of a full decision on 8 April.
But objections to the plan have led to the open letter being sent to the council in which the group claims the scheme includes no social housing.
"The proposals for five retails units are vague and uncertain," the group added.
"And we believe the proposals for a public through-route to be disingenuous and will eventually lead to the proposed development becoming a gated community."
But Fifth Capital denied this would be the case.
Marc Pennick, director of Fifth Capital, said: "I am delighted that the business leaders have shown an interest in the Carriageworks site and respect the views made.
"It is regrettable that it has taken them nearly 28 years to comment on this site.
"However, as we have been doing this for 16 years, I don't need a lecture from someone who makes fictional animations.
"Maybe his time would be best spent on making another Wallace and Gromit animation which will be hopefully better than the last one."