'Action needed' over high private rent costs in Bristol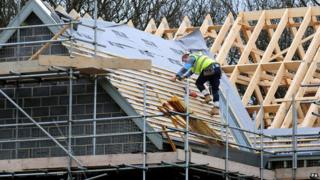 Putting a halt to expensive private rents is a key issue for Bristol East, candidates have said.
Liberal Democrat Abdul Malik said there were "notorious" landlords. Labour's Kerry McCarthy and Conservative Theodora Clarke highlighted high costs.
UKIP's James McMurray said the party wanted a "brownfield revolution".
It comes after a petition over a letting agent who called on landlords to consider hiking prices was signed by some 11,000 people.
The four candidates were speaking on a BBC Radio Bristol election debate programme.
The Trade Unionist and Socialist Coalition's Matt Gordon, who was not at the event, told the BBC Britain was experiencing a "terrible and escalating housing crisis", with Bristol being one of the worst-hit places.
The Greens' Lorraine Francis, who was also not at the debate, has so far not responded for comment.
'Bristol bubble'
Mr Malik said the area had a "reputation... of some notorious landlords".
"They own these properties and don't do anything with them because they bought them for pennies and now they're worth a huge amount more. They have no reason or incentive to move them on."
Ms McCarthy said: "The first thing we obviously need to do is build more houses and make sure they're affordable houses.
"Rents in the private sector are [also] absolutely extortionate, so [Labour] will stop extortionate letting agents' fees, where they charge the landlord and the letting agent at the same time."
Ms Clarke said: "I think it's about working with the planning authorities, the council and making sure we're working with the developers to have access to their sites."
Mr McMurray said: "At the moment it's cheaper for developers to develop on greenfield land and they have been doing that around the Bristol area."
Mr Gordon said there was an out-of-control "Bristol bubble" and that rent controls should be introduced.
---
The candidates for the constituency are:
Theodora Clarke, Conservative
Lorraine Francis, Green
Matt Gordon, TUSC
Abdul Malik, Liberal Democrat
Kerry McCarthy, Labour
James McMurray, UKIP
---