Bristol boxing promoter Michael Graydon's funeral held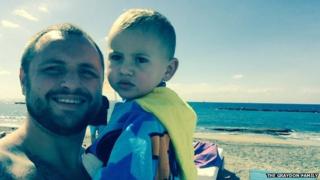 Hundreds of mourners have attended the funeral of a Bristol boxing promoter who was found dead after vanishing in Monaco.
Michael Graydon, 29, was on the French Riviera to watch a boxing match but did not attend the bout or arrive at the airport for his return flight.
He was missing for two weeks before his body was found in a deep rock crevice.
Speaking at his funeral at St Mary Redcliffe Church, his father Adrian said he would "always be our champ".
His cousin Fred Little added: "He will be sorely missed. He achieved so much in his short life."
Mr Graydon, who has an 18-month-old son, was last seen alive outside a nightclub. CCTV identified him near a church a short time later but cameras eventually lost view of him.
Police in Monaco used a military bloodhound to trace his scent but the trail ended near the church.
Officials said his death appeared to be an accident.