South Gloucestershire balloon 'to capture space images'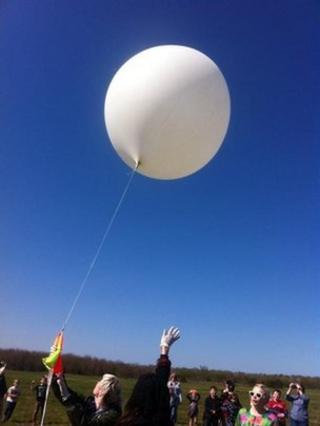 A balloon that it is hoped will capture images from the edge of space has been launched from South Gloucestershire.
The event marked the start of a 10-year art project called A Decade with Mars.
Bristol artists Ella Good and Nicki Kent, who have been overseeing it, have been working with people who applied for the Mars One Project.
The aim is to find out why people would want to live on other planets. Similar events are due to take place in cities including London, Leeds and Hull.
The balloon launch on Yate Common took place at 13:00 BST.
It is understood the balloon takes 90 minutes to go up and then, after bursting, just 30 minutes to come back down.
Ms Good said: "We fill the balloon with a lot of helium and then we let go of it, and it flies upwards.
"The Helium expands and, when it reaches about 100,000ft, the balloon will be seven-metres across.
"Then it will burst, and we want it to burst as we need to get the camera back to get the footage."
The pair said an online predictor estimated the balloon would burst just over the edge of Wales.
"Then it might just float into the sea when it comes down," Ms Kent added.
"But the box should float and our camera is waterproof, so hopefully we'll still be able to recover it afterwards."