Fears over Bristol to Bath Railway Path cycle speed risk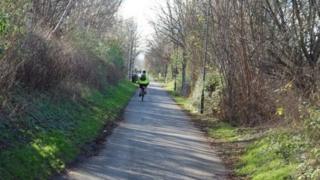 Speeding cyclists could be putting children using the busy Bristol to Bath Railway Path at risk, it has been claimed.
Parents whose children cross the path to get to Whitehall Primary School in Easton are calling for greater speed limits to be imposed along the route.
One claimed some cyclists "shout and say rude things if you get in the way".
Bristol City Council said surface markings and a speed reactive sign were in use, but "more needs to be done".
'Daft behaviour'
"We are working on plans to develop safety measures on the path using funding from the Local Sustainable Transport Fund," said assistant mayor Mark Bradshaw.
"Both the cycling and pedestrian communities would have to be consulted before any plan was approved but we recognise that something needs to change."
Some users of the path told BBC Radio Bristol they had witnessed minor collisions involving children, including one which left a girl with a bloody nose after she was hit by a cyclist.
Others said they saw a cyclist fall off his bike after hitting a child, and a speeding rider overtake three other bicycles with a pedestrian walking the other way.
Jon Usher, from the cycling charity Sustrans, uses the path to bike to work and said he was aware of near misses and parents being fearful of cyclists.
"You do see some particularly daft behaviour by a minority of people. That's a fairly horrible thing to admit to," he added.
"We're getting to a stage of having to treat the railway path in the same way, psychologically, as we do the roads."
The 13-mile off-road path runs between the cities of Bristol and Bath and is open to both walkers and cyclists with access for disabled users.