Bristol recipe sharing project aims to connect cultures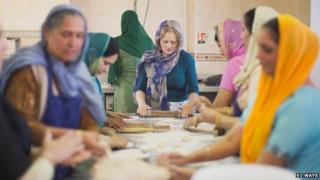 A new project celebrating Bristol's cultural diversity hopes to connect people by getting them to share recipes reflecting their heritage.
It has been called 91 Ways, reflecting the estimated number of languages and dialects spoken by people in the city.
Organiser Kalpna Woolf said food was a "strong symbol of social identity" that could "bring people together".
The project will also connect schools and get people from different generations to talk and cook together.
"Many older people in Bristol, brought up on traditional English meals, will vividly remember the first time they tried a pizza, curry or kebab and remember how exotic it all seemed then to try foods from different countries," said Mrs Woolf.
A big part of the project will be sharing knowledge about where ingredients come from and encouraging people to buy and cook with unprocessed foods from sustainable sources.
"Food breaks down barriers in the way even language doesn't - when you hear about food heritage you hear about people's heart," said Mrs Woolf.
Ahead of the official launch in June, people are being urged to send in their recipes and food memories.