Avon Gorge derelict site turned into nature reserve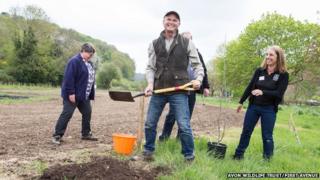 A wildlife habitat created from formerly derelict land in the Avon Gorge has been officially opened.
Bennett's Patch and White's Paddock was used for dumping rubble from the blitz during World War Two and was also the site of a derelict brickworks.
Dr Bevis Watt, chief executive of Avon Wildlife Trust, said: "A huge slow worm population and kestrels and weasels have already been seen on the site."
About 1,000 volunteers helped plant trees, seeds and plants at the project.
'Soil contamination'
The 12-acre site was also home to a derelict timber yard and sports ground.
Dr Watt said: "The spoil means there are four metres of rubble under most of the site.
"It had 1.5km of derelict fencing, derelict buildings, soil contamination issues and many more issues including two unexploded World War Two bombs."
The charity also worked with a number of partners, such as architect and broadcast Kevin McCloud whose firm designed the reserve's semi-seasonal shelter and classroom.
Habitats have also created to encourage bees and bats to the reserve.
The trust's president, Simon King officially opened the reserve on Friday afternoon.