Bristol's Shaun the Sheep trail 'unfairly ignores city's east'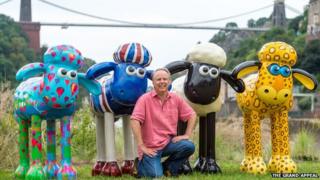 A Shaun the Sheep art trail through Bristol has "unfairly" ignored neighbourhoods in the east of the city, according to some residents.
Seventy decorated sculptures of the famous Aardman Animations character will be sited round the city from July.
Bristol East Labour MP Kerry McCarthy said it was "disappointing" only one was listed for her constituency.
Organisers say the locations were picked to showcase areas for residents, tourists and sponsors.
"The whole purpose of the free charity arts trail is to raise funds for sick children and babies at Bristol Children's Hospital," a spokeswoman for Wallace and Gromit's Grand Appeal said.
The trail follows the success of the Gromit Unleashed project two years ago and is expected to draw thousands of tourists to Bristol.
However, Ms McCarthy said the city's east tended to "miss out on quite a lot of things", saying it was "a shame that everything seems to be very much focussed on other parts of the city as usual".
Of the 70 locations, the Shaun in the City website lists five under the "East" banner but Ms McCarthy said only one, Snuff Mills Park, was in her constituency.
Fishponds resident Kate Jerrold told BBC Radio Bristol: "We didn't get a lot of green capital stuff, we didn't get any of the Gromit trail, so yet again it's looking very centrally at certain parts of the city and saying 'these are the parts we want to advertise and there are other parts that really you don't want to go to'."
Joe Cook, another local resident, said locations in the North, South, East and West were "are very exclusive pockets of that zone, and there's nothing for areas like Southmead, Lawrence West, Hartcliffe, Knowle West, for example".
He added: "It struck me as being a bit unfair and exclusionary."