Fears over Bristol teenager Yusra Hussien's UK return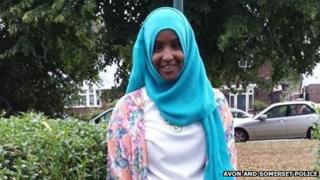 The family of a Bristol schoolgirl believed to be in Syria fear she will never be allowed to return home.
Yusra Hussien, 16, sparked an international search after she boarded an indirect flight to Turkey with Samya Dirie, 17, from London in last year.
Her family fear she could be stopped from returning as the government cracks down on British nationals who are fighting in Syria.
The Home Secretary has said each case will be looked at individually.
'Rebellious phases'
In a statement, the Home Office said: "For some prosecution for terrorist offences is the right course of action.
"For others, it may be that support from mental health and social services may be more appropriate."
Although Yusra has made contact with friends back home in the Easton area of Bristol, her family still do not know exactly where she is.
"People that have gone - they are British citizens and they should be allowed to come back into this country - this is their home," said Anira Khokhar, the family's spokesperson.
"You have children going through different rebellious phases and if they are in the wrong they should be tried in this country but again, case by case.
"Her family will never forget her, she's their daughter and the hope is there to bring her back."