Mayor reconsiders Avonmouth and Portbury Docks freehold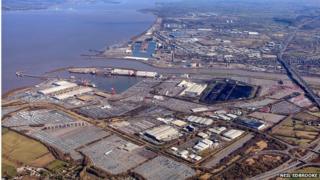 Bristol's mayor says he will reconsider selling the freehold of a docks complex after councillors' opposition.
George Ferguson had previously approved the £10m Avonmouth and Portbury Docks deal with First Corporate Shipping.
Following a "call-in" of that decision, council members voted by 41 to 16 to object to his plan.
Those against argued the council's long-term investment would make way for a "short-term advantage" and that the freehold was worth more than £10m.
Mr Ferguson told the debate it was not a case of "letting the family silver go" but how it was reinvested.
The council currently holds a 12.5% share in the ports.
'Smash-and-grab'
Labour's Helen Holland criticised the proposal, saying there was "great frustration" at the lack of information about the sale.
Conservative councillor, Peter Abraham said city had received some £68m income from the port since it was sold in 1991.
And Liberal Democrat Gary Hopkins said the council should be thinking about the "long-term interest" of keeping the share "and not a smash-and-grab".
The Green Party's Charlie Bolton said while the Greens supported the port, he objected to the sale of even the freehold as it was a "community asset".
"The council's job as trustees should be to manage that land and not to sell it," he said.
"Once it is gone it's gone for ever."