Temporary Bristol move for Parliament 'too expensive'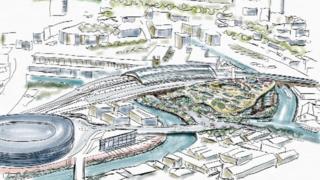 A proposal to move Parliament to Bristol while the Palace of Westminster is refurbished has been dismissed by an MP.
North East Somerset MP Jacob Rees-Mogg - who sits on the committee reviewing the future of the 150-year-old building - said the idea is too expensive.
He said finding a temporary London home for MPs with offices in the Palace of Westminster would be cheaper.
A design firm floated the idea to provoke debate around devolved power.
Christophe Egret of Studio Egret West, the firm behind the proposal, said: "It has been done to try to make people think about not investing all power in London and divesting it around the country."
The proposal would see the former Royal Mail sorting office behind Temple Meads railway station transformed into a new parliament.
The derelict building has been described by the Mayor of Bristol George Ferguson as something that "shames and embarrasses Bristol".
On a visit to the city, Prime Minister David Cameron said it looked like "a war zone".
The design for the new parliament shows a hill that visitors "are invited to scale" and "look down into the speakers' theatre".
A recent report suggested the cost of restoring Palace of Westminster without finding a new home for resident MPs and peers would cost £5.7bn and take 32 years.
The Palace of Westminster only has enough office space for about a third of all MPs.
Mr Rees-Mogg said: "Parliament needs to be where the government is.
"The new home would have to be near, otherwise you'd have to move all 650 MPs and that's a much bigger and more expensive undertaking."