Banksy's Dismaland memorabilia sells at auction for thousands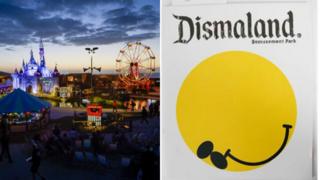 A private collection of Dismaland memorabilia has been sold at auction for more than £10,000.
The sale included brochures, art work and gift shop souvenirs collected by a man who "fell in love with Dismaland".
The "bemusement park" in Weston-super-Mare attracted thousands of visitors when it opened last summer.
Auctioneer Andrew Stowe said the sale in Bristol "massively exceeded expectations" and there had been "interest from across the world".
"It's a lovely collection... it's memorabilia for every pocket," he said.
The auction raised £10,190 and the seller has said he will donate part of the proceeds to a Bristol homeless charity.