Bristol goods stuck in Jamaican port awaiting tax payments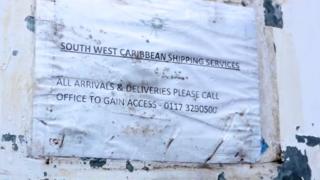 Jamaicans living in Bristol have said a local shipping company has failed to deliver goods to their families in the Caribbean which are a lifeline to them.
They claim South West Caribbean Shipping based in Easton has not paid the necessary taxes, so the containers are stuck at customs in Jamaica.
Owner Junior Morrison said he did not owe any money to anyone in Jamaica.
Manley's Freight Forwarders in Jamaica said he has promised to pay by Friday allowing them to release the shipment.
Beryl Robinson and her goddaughter Sophie regularly send barrels costing about £300 each filled with baby clothes, shoes, dried cereals, cooking oil and power tools to family and friends in Jamaica.
"Last time I got him was two weeks ago and he said there was no need to call again because the barrel was in Jamaica and he had other things to do," said Mrs Robinson.
"I am very annoyed.
"My son has sent £300, my daughter has bought hundreds of pounds of goods and when I get a little money from my pension I send some of that - it's so sad."
Janelle Brown said she relies on the tinned food, cereals and clothes her sister in Bristol sends to her.
She has been waiting a month since the last container.
"We're depending on the food and clothes for my little baby niece," said Ms Brown, speaking to the BBC from Jamaica.
"I don't know what we're going to do - I'm not working so I can't buy food - my mother may be able to lend us money to get something to eat but I don't know," she said.
Nadica Clark from Manley's Freight Forwarders in Kingston, said the goods will be released within 24 hours once Mr Morrison "sorts his stuff out".
Mr Morrison said he did not owe any money to anyone in Jamaica.
He says the containers "are still being processed and Mrs Robinson will get her goods" adding they have only been delayed at the port "by a week or two".