Bristol boy airgun shooting: Man pleads guilty to GBH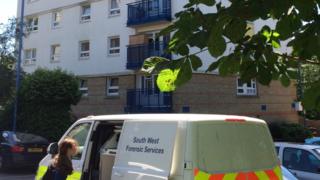 A man has pleaded guilty to causing grievous bodily harm after a toddler was shot in the head with an air rifle.
The 18-month-old boy remains critically ill in hospital after sustaining a serious head injury on Friday evening in the Hartcliffe area of Bristol.
Jordan Walters, 24, of Bishport Avenue, entered his plea at Bristol Magistrates' Court.
His partner Emma Horseman, 23, did not enter a plea to a charge of aiding or abetting Walters to commit the offence.
Both were remanded in custody to appear at crown court on 18 July.
District Judge Jim Astle imposed a reporting restriction on naming the victim.
The boy's parents were at court but did not attend the hearing.