Prince Charles quizzes Tim Peake after space mission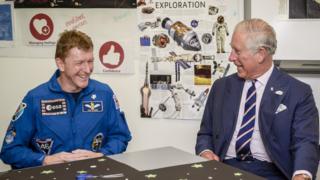 Astronaut Tim Peake has joined the Prince of Wales at a Prince's Trust event to help disadvantaged young people find work.
Maj Peake said he wanted to support the Prince's Trust as his designated astronaut charity.
The space ace, a reservist with the armed forces, was helping three young people make rockets from a kit when the prince arrived.
Prince Charles is also due to visit a cancer charity later.
Maj Peake said he had been asked to be an ambassador for the Prince's Trust prior to his space mission.
"It's a fantastic charity to try and help and support young people who need to be given more opportunities for a brighter future."
Prince Charles asked the astronaut: "Are you sure you're in one piece?".
Maj Peake said: "It does take a while - took a week for the balance to return," but he was "now feeling absolutely great".
While in Bristol, Prince Charles is also visiting Penny Brohn UK in nearby Pill, a charity which helps people living with cancer.