Five-week Yate warehouse fire sparks 'stay indoors' warning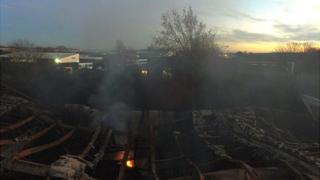 People are being advised to "limit the time they spend outdoors" near a warehouse which is still burning, five weeks after being destroyed in a blaze.
The unit in Yate, near Bristol, is still smouldering and "periodically" reigniting following a fire last month.
South Gloucestershire Council has advised people "to avoid outside areas affected by any smoke".
Site owners Cushman and Wakefield has apologised but said it cannot do more as the building was "unsafe to enter".
Firefighters were at the scene for almost a week dealing with the fire at a pet supplies warehouse on the Stover Trading Estate.
Avon Fire and Rescue said regular inspections were made until mid-November, despite the building "not being accessible".
But nearby workers are complaining the smouldering warehouse is a health hazard.
Tony Morgan, a business owner, said: "The smoke some days is very bad and we all go home smelling of bonfires.
"I'm asthmatic and it's really flared up recently - I just want it sorted."
'Limit time'
"While the odour and smoke may be unpleasant, the direct risk to public health remains very low," a council spokesman said.
"However, if people need to be outdoors in the area close to the site of the fire, they are advised to avoid outside areas affected by any smoke, or to limit the time that they spend outdoors."
A spokesman for Cushman and Wakefield, said it had personnel on site "monitoring it 24/7".
"Unfortunately, the fire left the building structurally unsafe which means the fire service has been unable to enter it to tackle the residual heat which is causing it to smoulder and periodically reignite," he said.
He added, once the debris had been removed the "planned demolition and safe access can take place".