Bristol Mayor Marvin Rees fires opposition cabinet members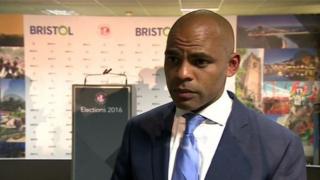 Bristol's mayor has fired opposition councillors from his cabinet, saying their parties behaviour has made the current arrangement impossible.
Marvin Rees, the Labour leader, had recently claimed opposition parties were in a "race for the headlines".
Opposition councillors reacted angrily to the move, with one saying his "inability to listen reflects poor leadership".
A cross-party cabinet was one of Mr Rees' key election pledges.
He said: "After winning the mayoralty and our majority in City Hall 18 months ago...we formed a cabinet which looked more like the people we represent.
"It is increasingly clear that the behaviour of other parties has made this arrangement untenable.
"In my recent state of the city speech, I renewed my invitation to the other parties to drop the race for the headlines and work with us to deliver for the city, but they have shown no change in behaviour."
'Worrying trait'
The two opposition councillors fired by Mr Rees were Claire Hiscott, Conservative cabinet member for education, and Fi Hance, Green cabinet member for energy, waste, and regulatory services.
Green leader councillor Eleanor Combley said: "Even though we often sought to avoid stepping on the Labour mayor's toes, he has repeatedly shown he is unable to accept any sort of criticism, constructive or otherwise.
"This is a worrying trait - a thin skin is not a helpful attribute if you want to be responsible for running a city.
"Denial of views other than your own and an inability to listen reflects poor leadership."
Conservative leader, councillor Mark Weston sad the decision was "not entirely unexpected".
"Presumably [this is] a means of satisfying the new left-wing dynamic within the local Labour Party.
"It has also been noticeable lately that the mayor has been very sensitive to criticism and less receptive to constructive opposition."