Bristol Waste backs down over homeless belongings threat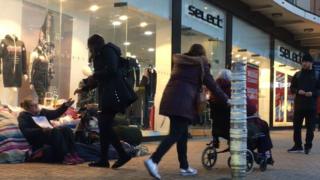 A council-owned waste company has backed down after threatening to take away homeless people's belongings.
Bristol Waste handed out letters to people living on the streets in the city centre, telling them they had 24 hours to move.
After being contacted by the BBC, the company said it now had "no desire to remove possessions and will not do so".
It has also vowed not to hand out any further notices until a "multi-agency approach" was agreed with the council.
Stacie Hinkinson, who has been living on the streets of Broadmead and Cabot Circus shopping districts for six months, said it was "disgusting" to receive the notice.
It told her she had 24 hours to remove her belongings. If she failed to do so, they would be removed and she would have one week to retrieve them from a Bristol Waste depot.
The notice did not say what would happen to her belongings after the week has passed.
"We're expected to move from place to place with no solution," she said.
"Their only answer is to bin our belongings, so we have to start all over again."
Last week, Simon Dudley, of the Royal Borough of Windsor & Maidenhead, called on police to address the issue of aggressive begging "urgently".
He had written that beggars could present the town in a "sadly unfavourable light" ahead of the royal wedding.
A spokeswoman for Bristol Waste said: "Bristol Waste Company has received a number of complaints from businesses and other city centre users and has put notices on some belongings in an attempt to identify abandoned property.
"The company has no desire to remove possessions and will not do so. No further notices will be placed until a multi-agency approach is agreed."
The company is due to meet with the council next month.