Parasite found at Bristol Water treatment works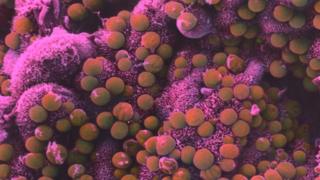 Residents in part of North Somerset are being asked to boil their water after a parasite that causes gastric illnesses was found at a treatment works.
Bristol Water said cryptosporidium was found at Clevedon works, which had since been taken out of operation.
Properties in the BS21 post code along with a small number of properties in BS49 are being urged to boil their water for at least the next 48 hours.
The company said it was supplying bottled water to vulnerable customers.
Schools are being contacted directly and notices are being delivered by hand to affected properties.
Automatic compensation
Bristol Water said the boil notice was likely to remain in place for at least 48 hours but customers would be informed directly when the notice was removed.
People have been advised not to eat food prepared using the tap water after Wednesday night and to avoid swimming for a few days.
Compensation of £10 will automatically be paid to affected customers, the company said in a statement.
Thara Raj, a health protection consultant for Public Health England South West, said: "We would remind people in the affected areas to follow the advice from Bristol Water and boil their drinking water and allow it to cool before use.
"The levels of cryptosporidium detected in the water supply is low and the advice to boil the water is a precaution.
"If people feel unwell or experience symptoms of diarrhoea and vomiting they should contact NHS 111. If your symptoms become severe, you should contact your GP."
---
What is cryptosporidium?
The bug, known as crypto, is a parasite that can cause extreme diarrhoea called cryptosporidiosis, also shortened to crypto
It can affect all people but, for those with weakened immune levels, crypto can be severe and even life-threatening
Millions of parasites can be released in a single bowel movement which are then passed on to others through accidental ingestion
The most common symptom is diarrhoea but other warning signs include dehydration, nausea, vomiting, fever and weight loss
Most people with healthy immune systems can recover without treatment by making sure they drink plenty of fluids
---