Bristol Arena: £1m 'already spent on construction firms'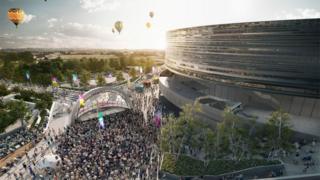 Almost £1million has already been spent by Bristol City Council on construction firms for the city's delayed arena, the BBC has learned.
Two firms received the cash in pre-construction service agreements, despite not agreeing a final deal with the authority.
Plans to build the arena in the city centre have been put on hold while an alternative location is examined.
But the former mayor said it was "idiotic" to delay the project further.
Five payments adding up to £657,862, between July and November 2017, were made to construction firm Buckingham Group by the council after it took over the project.
This is on top of £290,435 which went to the original contractors Bouygues.
The current deal with Buckingham Group was put on hold - although the council is still paying them a weekly retainer.
While such agreements are standard in major construction projects, the figures published by the council show it spent £948,297 on arena construction firms without a brick having been laid.
Meanwhile, the council is now actively considering moving the arena to the Brabazon Hangar at Filton in the north of the city from its original proposed site next to Temple Meads station.
Mayor Marvin Rees admitted the planned opening date was now delayed until 2020, but insisted he was "committed" to getting the arena built.
'Naturally disappointed'
"It has to be right - act in haste, regret at leisure," he said.
"We want to make sure we are looking at all the options before we commit Bristol to a 60 or 70-year relationship."
However, his predecessor George Ferguson described the stalemate as "madness".
"If you want to build a shed on the outskirts that won't benefit Bristol's economy, of course it would be cheaper, but is that what Bristol wants?" he said.
A spokesman for Buckingham Group said the company was "naturally disappointed with this further delay", but added: "We remain fully committed to the arena project and will continue to support the arena team and the council, with the aim of finally delivering an outstanding arena for the people of Bristol."